Partnering with rural communities in Kenya
KENYA QUICK FACTS
Population: 41 million
Per Capita GDP: $1,600
Unemployment: 40%
Inflation: 9.3%
Life Expectancy: 59 years
Official Languages:
English & Swahili

Religion:
Protestant 45%; Catholic 33%
Sign Up for Updates
Get occasional news by email about our work.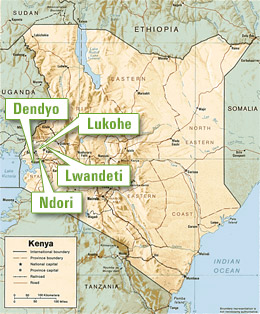 Children in rural African communities tend to have even fewer educational opportunities available to them.
Buildings & Books has chosen four rural communities in western Kenya – Lwandeti, Dendyo, Ndori, and Lukohe – to establish our first four libraries.
The people of Kenya have demonstrated a commitment to educating their children. In 2003 the country abolished all school fees, and the 7% of national GDP it invests in education is the third highest expenditure on the continent. But progress has been slow, with nearly a quarter of school-aged children still out of school and one-fifth of the country's 15-24 years-olds unable to read or write.
Overcoming obstacles to education
In Kenya, like many countries in Africa, the obstacles to education include overcrowded classrooms, poorly trained teachers and a severe lack of resources and learning materials. Kenyan parents are also responsible for providing their children's textbooks, beginning in 1st grade, and a single textbook can cost a full day's wages.
As a result, only about a quarter of Kenyan students own their own math or reading textbook, further compounding problems caused by the scarcity of school and community libraries throughout the country.
These problems disproportionately affect children living in rural communities, which lag behind urban centers in areas like economic growth and educational opportunity. The cycle of poverty is therefore harder to break in communities like those in which we are constructing libraries.